_________________________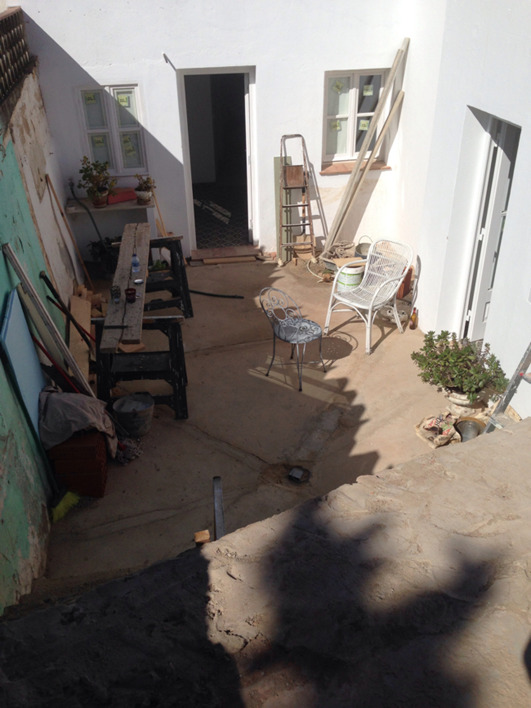 We bought a house in Portugal.
In a town called Lagos in the Algarve.
I'm still in wonder...
What a journey!

For me and my husband this is an old dream. A dream i thought was only a dream.
But it's not, it's reality.
We are gona live our dream of warm climat in our golden years.
No more grey, cold, raining dull winters.
Welcome sun, wind and yeah, let's see?

Hot water from the solar panel...
Fresh orange, tomatos, boganvilla in the front yard...
Shade under an old sail over the roof terass..
Slow coked dinner...
Old wooden table with lots of friends hanging out in our lovely courtyard.
Long walk on the beach, a beer in the shade...
Chit chat on my kind of realy not so good Portuguese...( it's coming, I'm trying to learn).
Fresh grilled fish from our neighbor Mr Gilberto, who has the coolest restaurant ever.
Some work time when I'm wanted.
The relaxed happy life.

I found her our perfect project, quit quickly. I think she was the fourth house I visited...
Not looking her best, but with tons of possibilitys...
I saw HER and the hidden beauty and fell in love!
Squished in between an old cemetery and a good fish restaurant, just waiting for me to help her out of her misery.
Neglected for YEARS, not a lot of love coming her way...
And now, change of times!
I see her, I love her and she feels it!

Since the beginning of this year I've been a hard barging lady!
Realy had a new chance to roll up my sleeves in many perspective...
First, to buy a property in a new country.
Puh, not a Sunday walk on the beach I tell you!
Lot's of regulation and paperwork!!!
A LOT of breathing going on...

The first thing to do!
Dealing with the sneaky and greedy broker, what a ride...
So proud I made it with dignity.
And then!
Making the lady who sold the old house happy and satisfied.
Continuing with!
MANY mails and meetings with our new lovely lawyer.
Last part!
Contracting Jose Francisco Jesus, our fantastic builder.
AND have a "1000" meetings/ mails/ photo exchanging with him.
Flying down from Sweden to work with this project every six week since we bought HER in dec 2014.
Exiting, fun and such a ride...

I didn't know that it was possible for me to deal with al this.
I mean, it's not the first time we buy and renovating property's.
But before it was mostly my husband who's fixed everything.
Now it has been me, Anita the " the lady", "the dealer", "the architect" and "the projektmanager".
The first time in my life, a project as big as this.
Like a MILLION things to take in my head, so many choices...
Oh la la I'm in wonder I haven't totally lost it:-)
And I did it the Anitish way!
So cool to see how my work as a stylist and a coach has helped me.
I think the Portuguese workers are not so used with so much appreciating.
Ha ha ha , now they are:-)

Off course I could not have done this on my own! My husband supports me and have so much trust in me. He know how much I love projects like this, he knows it's " my baby".
He kind of "gave" her to me...
Goes on like a "man cheerleader" and just love me to death for al my work.
So much appreciation coming my way.
And from my lovely friends saying YOU GO GIRL!
I nearly can't take it al in.
Well, yes I can, I just let it runs trough me.
Coming in and going out, like food for the soul and more love to the world....

I'm also super happy for my friend who lives in Lagos . She gave me the contacts to the right people to work with and she helps me with 100's and 100's and 100's of photos.
SOOOOO greatful, thank you Carina!

AND I could not have done it without a BIG trust.
The love of people and the goodness in life.
Sooooo much things could have gone wrong.
But it has not, she's BEAUTIFUL!
Off course some things had to be corrected , but " Jesus" is a good man. ( how cool is it to have bouth Jesus and the old cemeteries?)
He makes the changes with ease. AND we had some realy good laughs the building team and I :-)
Like the other day, when like four man had to help me down from the roof ( no steps yet )
Uj uj uj...
I was NOT a pretty sight, my legs still hurt from the tension.
So happy for my sense of humor, but it was a pretty undignifying way coming down...
But hey still, even when my legs shaking like rattlesnakes, I'm in trust!
We love each other the house and I.
In the deep core of my soul I know they our love is real.
We are one and we gona share our love to the world.

Welcome to visit us!

Läs hela inlägget »