_________________________
Every year after the Yogini ashram in Corfu, I go direct to our summerhouse in Småland.Time to rest, relax and be a "carrot"...A boild one:)
With a suitcase full of beauty, soft feminin Goddess clothing from Greece, I land at home. I do a quick stop in Gothenburg to unpack my bags. I'm so well aware of the story of re- packing. So attach to my "fluffy" feminin clothes. Dresses, blouses, shawls, necleses...I always re-pack to much.
This year same, same - did it again!
My friend told me to only bring 2 dresses. Yeah right? Sandals, trousers, silk blouses, dresses, fancy under wears, you name it...A small bag, but anyway to much. But you never know what you might need Anita?
New levels of why I work as a stylist hits me. I need ME!!! Hey, this is what I teach!
Because I actually don't need anything. This is only in my head, Im waiting in the shapeshifter. My transformation into my summerhouse Anitish me.
I'm loving my different way of living. Cool relaxed citychic in Gothenburg, Yogini Peacook in Corfu, Lazy summerhouse look in Småland. My different styles and needs taken care of. Same same and yet so different...
The summerhouse wardrobe is placed on the wall in our bedroom. An old wooden shell with hooks in black steel. Not much on it, but perfect and everything I need. My favorites.
In our summer home I do some serious trip down memory lane...
I'm so in love with my very old and cozy sweatshirt and pants in a VERY good quality from the early 80's. My cool doughter (who used to laugh out loud seeing me in this), wanted to sneaky peek and kind of "steel" them last year! I shouted out a big NO, don't touch!(80,s is the "new black" :) Grey and red with BIG statement all over...Can you see it? It's timeless beauty in shape of old memory's from my time as a scuba diver, (kind of short career but the suit stay's).
Yes, the Goddess has many faces! And in rubber and tubes she showed herself to me -85:-)
Old "farmers"shirt is another favorite. Pale blue and white with some holes that can't be fixed, kind of "country trashy"...Reminds me of my father in law, the man who build this summerhome. Can realy see his surprised face, me wearing this old worn out shirt. He was called "The Earl" when he was a young man. Hope his not turning in his grave, because I love it!
A pair of to old jeans shorts that in the beginning of my vacation nearly fall of because there are to big (fitting good in the end:-) Smack, favorites!
The old bikini I never use hanging on a hook, naked is best !
A well used cotton jumper from the early 90,s,.in pale salmon pink... Matching my orange life jacket from the 60,s. Hello, what more can a woman ask for?
Ops, I forgot my very old rubber boots, that fits like a glove! Perfect in the woods when I'm exited sneaking around hunting (and finding) the yellow gold, chanterelles. Always singing or talking laud, so damn exited...But also scared,  because in our woods it's a lot of scary wild pigs...(no, not eating "that" kind of mushrooms!)I tell you, they are dangerous!
But I'm brave!
I have a beautiful dress to, old hanging on the wall. Not much used, but so romantic and beautiful...on the wall, ha ha ha...Yep, here we have it. This is my dream summerhouse  wardrobe. 
I love this simple way of living. Dive in the ocean with my dog. Don't care about hairdo and makeup. Nothing but the sun and wind on my skin...Yoga on the backyard, a book to read, simple and good food, a drink with my beloved in the afternoon sun by the garage. On plastic chairs, easy going, drinking from the bottles. Just enjoying life...
I'm so in love with how the Goddess shows up in my life, in so many forms...My unpacked citybag stay unpacked. Soon I'm transforming again to?
Well, let's see!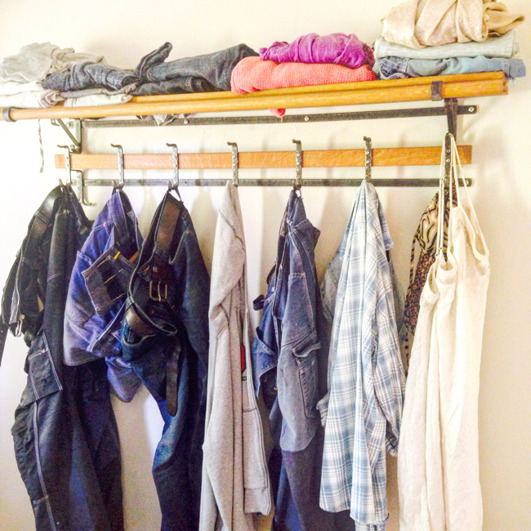 Läs hela inlägget »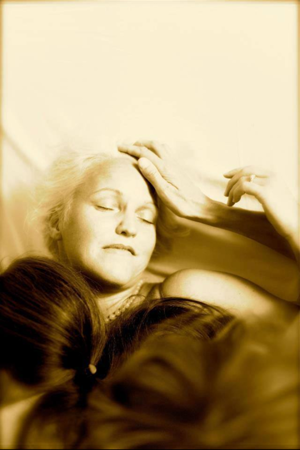 As I have so many friends all over the world I create my first blogpost in English. It might not be so correct in the language, but hey, you're my friends and I think you can hear my voice.
Some " homemade" Swenglish" words maby, the " Anitish" way.
Perfect imperfection, just like me!
I'm sitting on my balcony viewing the ocean, reflecting on my weeks in Corfu.
A month Yogini ashram with Awakening women. My life feels like a movie, a good one. Not a Hollywood feel good movie, more the independent black and white one. Interesting and not what you expect...
A little dramatic, real, raw and beautiful life changes over the years.
I can't nearly believe it.
This summer, this life.
All my different choices...
From my work as a hairdresser, cool chick in black, wife, being a mum, to assisting in women's groups, Lifedancing teacher, guiding women, taking care of my mother, leading the Yogini assistant team, Stylist and coach, selling and buying houses, project a new building in Portugal, to body work, and this summer to SING IN A MICROPHONE AND RECORD!!!
Hello, give me a break!
So surreal and yet so totally natural...
I'm pinching myself, is this for real?
Yes, I'm realy here, in paradise, on Corfu, in my body.
Nothing less and nothing more, just a woman, through me, Anita Wiger.
The feeling of gratitude and humbleness runs through me.
Tears running from my eyes and my heart is so willing to surrender to all this incredible beauty. My first reaction is to outburst in sounds, but I let myself breathe into this moment.
I just breath and feel it.
Like Chameli say, kiss it with your breath from the inside.
A tantric practice, playing with my life force...
It's over 15 years ago since I first met my dear friend and teacher Carina-Maria Caur.
She showed me a way back to my body, through the love of dance and movement.
Lifedancing, I just love the sound of this word, Lifedancing!
And some years later C-M gave a workshop with Chameli Ardagh.
I couldn't believe how "at home" this made me feel.
Feminin way of embodying spiritually.
Yes!!!
It was like I found a bit of my own life puzzle...
You know that feeling when you put on the perfect ring, bam, there it is!
I shall not say it has all being easy, not at all.
Oh shit, so many feelings coming up from the basement. A lot of " ugly child's" being seen and held over the years. And I still hear knockings on my door...
I welcome them, they are all my "children".
Just wanting to have some love and attention.
And they have.
They have my attention, my love and my patience...
For me this work has been crucial for my perception in the wide area of beauty.
It's nearly 8 years ago since I woke up with a half paralysed face. I had to do a real check up when myself, how can I live my life like this?
What if this never goes away?
Can I still live in beauty?
After the first shock I went through a lot of shame feelings.
Maybe it's my own fault?
Did I ask for this?
And, I'm not healing quick enough.
Bahhhhh, many voices wanted to be heard...
Some thoughts were my own, and some came as friendly messenger from " friends".
I can say it was a tough time, but with the help from my spiritual practice and my closest friends I started to heal.
Not only the outside and my face, I started to heal my inside...
I found out smart practices ( as I love to practice ).
I asked the mirror everyday, how can I serve the Goddess , how can I bring out more beauty to myself and to the world?
How can I make myself more happy.
I did my best every single day, even when I didn't feel her...
It really helped me.
And I started to feel more love and beauty to myself and to others.
Maybe it's ok to shine even if you feeling a little "so and so"...
Can you feel beautiful anyway?
I sorted out everything that didn't serve me and beauty anymore.
Bye bye old believe of how I could feel, Bam, gone from my wardrobe.
Welcome sustainable well fitting beautiful good quality clothes. Welcome space and clean shells.
Okey, one eyes can not be open and blinking, hello to the one that can!
I see you, beautiful sister...
My life was seen by me, from me with so much more kindness.
Much more relaxed from the " model" of how beauty should be...
The brainwashed and kidnapped version of beauty and fashion.
I choose to dare to be beautiful!
In all my aspects, and this was for me a total life change.
My way back home!
And yes, summer 2015, back to my balcony in Greece, Corfu!
My movie.
This 3 weeks serving in Paradise, with my Yogini sisters, my teachers, sharing my gifts, coaching so many beautiful women, sharing my voice, giving my love, this crazy loving heart!
Ahhhhh, just want to cry out my gratitude to the world.
And I do, I cry out loud!
I refuse to hold back on love!
I refuse do make myself and others anything but absofuckinglutly beautiful!!!
Forever at my knees in deep gratitude for this life.
With love
Anita
Läs hela inlägget »